For All Americans
Rewarding America's Workers
Since its creation nearly 50 years ago, Medicare has represented a promise to the American people: that after a lifetime of work, seniors deserve the access to quality health care. This week, I was honored to join my colleagues inpassing historic bipartisan legislation by a vote of 392-37 to protect millions of seniors from losing access to their Medicare physicians. 

The bipartisan package represents bold, necessary progress for seniors. At long last, we will break free from the decade-long cycle of short term patches and transition Medicare away from a volume-based system toward one that rewards value, ensures the accuracy of payments, and improves the quality of care. 

Additional funding for initiatives that help low-income seniors pay their Medicare Part B premiums will help many older Americans struggling to make ends meet. At the same time, the legislation extends the Children's Health Insurance Program (CHIP) for two years while expanding funding for community health centers by $7.2 billion.With this legislation, we give America's seniors confidence they will be able to see the doctors they need, and the doctors they like – liberating them and their families from the shadow of needless, annual crisis.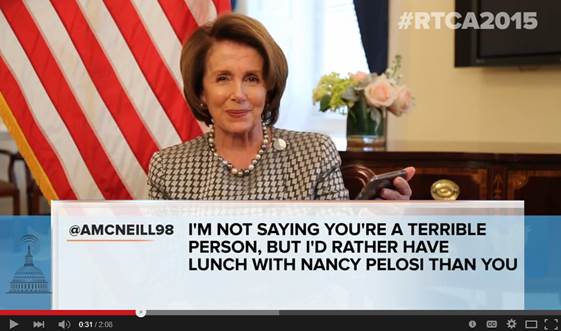 Congresswoman Nancy Pelosi joins with Members of Congress to read "Mean Tweets" on NBC News. Video courtesy of NBC News.
Bigger Paychecks, Better Infrastructure
Our nation's budget is more than a road map for the coming years - it is a statement of our values. Unfortunately, earlier this week, House Republicans chose to once again pass a budget that offers greater tax cuts for the wealthy at the expense of hardworking American families. 

Their "Work Harder For Less" Budget will make it harder to buy a home, harder to send a child to college, and harder to enjoy a secure and dignified retirement. According to the Economic Policy Institute, Republicans' budget plan will destroy 2.9 million jobs in 2017, and decrease economic growth by 2.5 percent. The American people have had enough. It is time for Congress to work together to build a plan that will reignite the American Dream and create a strong, prosperous future for our nation. 

A Healthier Tomorrow 
Five years ago, we made history as President Obama signed into law one of the most consequential pieces of legislation in a generation: the Affordable Care Act. Thanks to this historic law, more than 16 million previously uninsured Americans have finally secured quality, affordable coverage for themselves and their families. No longer do 105 million Americans live under the threat of an annual or lifetime limit on their health care. No longer can the 130 million Americans with pre-existing conditions be denied health coverage. And no longer is being a woman considered a pre-existing condition. As we commemorate the fifth anniversary of the Affordable Care Act, we recommit ourselves to the historic legislation's great legacy - ensuring that health care will remain a right, not a privilege, for all Americans.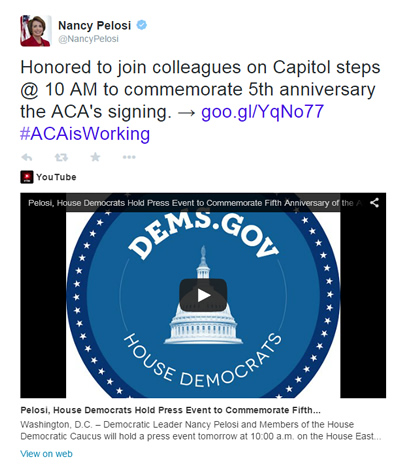 To follow Congresswoman Pelosi on twitter, please click here.
Please feel free to forward this information to your family and friends. To learn more about these efforts, to express your views, or to sign up for email updates, please visit my website. I am also on Twitter at http://twitter.com/NancyPelosi.
 


Sincerely,

Member of Congress