#DubNation
Honoring Our Heritage
This week, I was honored to join with the Asian-American Pacific Islander community at the YWCA of San Francisco and Marin in Chinatown to participate in a roundtable discussion on my bipartisan congressional delegation trip to Asia and offer an update on current legislation impacting the AAPI community. 

As stakeholders spoke of issues surrounding comprehensive immigration reform, the Affordable Care Act, student financial aid, and affordable housing, we had the opportunity to witness first-hand the diverse views in our vibrant community. We are truly blessed to live in a city that builds from the contributions and rich diversity of those who call San Francisco home. 

Please be assured that House Democrats will continue our efforts to provide good paying jobs by raising the minimum wage and increasing access to higher education. We will push for bold action to restore accountability, compassion and common sense to our broken immigration system. We will honor our heritage, our history, and the values of our nation by ensuring that every person has the opportunity to achieve the American Dream.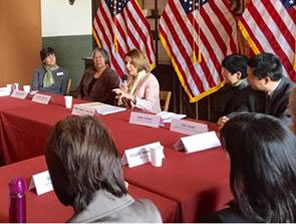 Congresswoman Nancy Pelosi joins with members of the San Francisco API Council to discuss the recent bipartisan congressional delegation trip to Asia and provide an update on current legislation impacting the AAPI community.

Thank you, Harriet Ishimoto! 
On Tuesday, I was proud to join with community leaders to celebrate the retirement of Harriet Ishimoto, the Immigration Caseworker in my office, as Mayor Ed Lee proclaimed May 26th Harriet Ishimoto Day in San Francisco.

Harriet's tireless dedication to public service has spanned over 24 years, beginning with her time with Senator Boxer and ending with my office, where she has assisted constituents with visa, immigration, and refugee issues. Thanks to her hard work and dedication, Harriet was able to aid San Franciscans with issues ranging from intricate, multi-national, family unification to life-threatening, high-profile issues – such as overcoming bias against LGBT individuals, increasing awareness for HIV/AIDS, protecting women facing domestic violence, and addressing visa issues for those facing deportment. Harriet, you will be missed by your colleagues, friends and the countless San Franciscans you have assisted in their time of need. We thank you for your years of service and wish you and your family all of the best as you begin your new journey!
 
Nancy Pelosi 
@NancyPelosi

---

To follow Congresswoman Pelosi on twitter, please click here

.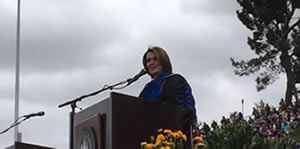 Congresswoman Nancy Pelosi delivers the commencement address to the graduates of San Jose State University, reminding them to have confidence in the strength of their diversity as they move forward with their dreams.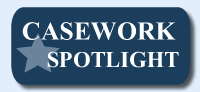 My office was recently contacted by a constituent whose office building had been receiving mail sporadically throughout the last month, which was particularly concerning because the constituent is a certified public accountant and was processing tax returns during tax season. Upon learning of the mail delivery issues, my staff immediately contacted the U.S. Postal Service and requested an investigation into the situation. Shortly thereafter, my office received a response from the U.S. Postal Service stating that it had addressed the issue with the mail carriers responsible for delivery to the building, and that service had been fully restored.

Caseworkers in my San Francisco office work to address any problems or concerns you may have with a federal government agency. To submit a Casework Authorization Form, fill out the form on my website.
Please feel free to forward this information to your family and friends. To learn more about these efforts, to express your views, or to sign up for email updates, please visit my website. I am also on Twitter at http://twitter.com/NancyPelosi.
 


Sincerely,

Member of Congress