Drop, Cover and Hold On
Remembering Loma Prieta
Twenty-seven years ago, our city swayed in the grip of the worst earthquake in generations. When the shaking stopped, we faced scenes of impossible destruction – the staggering aftermath of a quake that claimed 63 lives and upended thousands more. But even in the face of devastation from the hills to the highways, the determination and spirit of the people of San Francisco could not be extinguished.

As we mark the 27th anniversary of the Loma Prieta earthquake, we are once more called to remember. We remember the loved ones we lost. We remember the first responders who rushed to the rescue. We remember the community that came together to repair and rebuild and the city that decided to rise from the rubble stronger than ever.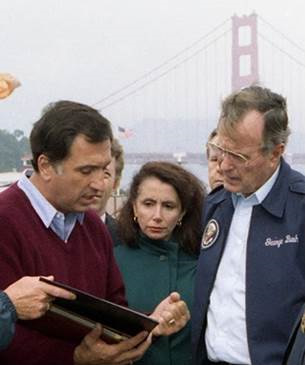 Congresswoman Nancy Pelosi at Crissy Field in 1989, joining Mayor Art Agnos and President George Bush to survey the damage done by the Loma Prieta earthquake

Today, we are still taking the lessons of that day to heart, preparing for any emergency that comes our way, improving our emergency response capabilities, and giving our first responders the tools they need in case of another disaster. As we remember those we lost and their families, let us also mark this anniversary with a renewed commitment to our city's safety and to effective disaster preparedness and response nationwide.

This week, over 10 million Californians from across our state took part in the Great California ShakeOut, the largest earthquake drill in our nation. Disaster preparedness starts with you: for more information on how to keep you and your family safe in an earthquake, please visit my website or our city's 72hours.org webpage.

June Jordan High School Shooting
Our hearts ache for the injured high school students who were shot at the June Jordan School for Equity in the Excelsior neighborhood this week. We pray for a swift recovery of all four students wounded, especially the young woman who was left in critical condition. Congress has a moral responsibility to act to stop gun violence from shattering the peace in our schools, communities, places of worship, and homes. In offering our condolences to the victims, we must also strive to ensure that not one more family is forced to suffer the senselessness of preventable gun violence.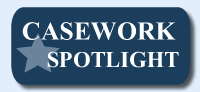 My office recently assisted a constituent who had applied for the Global Entry program, which allows trusted travelers a quicker journey through U.S. Customs when they return to the United States from trips abroad. When he attended his interview with U.S. Customs and Border Protection (CBP) for the program, he was informed that he needed to provide more information and documentation relating to his background. Although my constituent e-mailed the information to CBP promptly the next day, nearly two months had passed, and he still had not received a decision. Therefore, my staff contacted CBP on behalf of my constituent requesting an update on the status of his application. Shortly thereafter, he received his Global Entry membership card in the mail, and can now travel through customs with greater ease.

Caseworkers in my San Francisco office work to address any problems or concerns you may have with a federal government agency. To submit a Casework Authorization Form, please visit my website. 
Please feel free to forward this information to your family and friends. To learn more about these efforts, to express your views, or to sign up for email updates, please visit my website. I am also on Twitter at http://twitter.com/NancyPelosi.
 


Sincerely,

Member of Congress