CRomnibus
#CRomnibus
With the clock ticking for Congress to avert another government shutdown, House Republicans buried a provision in the spending bill that would weaken Dodd-Frank Wall Street Reform and allow big banks to gamble with the American people's money. The package also includes a provision that would multiply the amount of money wealthy individuals can give to a political party by ten times. 

This legislation offers brazen giveaways to the wealthy and well connected, all at the expense of the American people. It is destructive to middle class families and to the practice of our democracy. That is why I refused to place my name - and the name of every hard working San Franciscan - next to this bill and voted against this legislation. Know that I will continue the fight to ensure that we build an economy that works for everyone, not just the privileged few.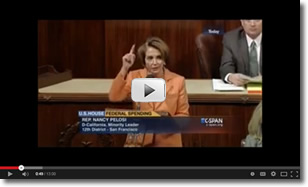 Calling San Francisco Home
The announcement yesterday by Federal Housing Finance Agency (FHFA) Director Mel Watt to fund the Affordable Housing Trust Fund, a permanent fund that was enacted during my time as Speaker of the House to provide state support for the construction, preservation, and rehabilitation of affordable housing for low and moderate income families, will improve the lives and security of millions across our nation.

With the eighth highest shortage of affordable housing in California, San Francisco will benefit from new and rehabilitated affordable rental homes that the Trust Fund will help finance over the next decade. American families should not be forced to choose between having a place to sleep or providing food, health care, and other basic needs for their children. Thanks to the Affordable Housing Trust Fund, hardworking families across the nation will no longer struggle to find a safe, warm and clean place to call home.

#3DaysLeft
San Franciscans have just three days left to enroll, renew or change plans through Covered California, California's health insurance marketplace, in time for coverage to take effect on January 1st, 2015. 

Currently enrolled in a Covered California plan? Visit Covered California by December 15th to review all plans and prices offered to this year. Interested in keeping your current plan? Update your information by December 15th to ensure you are receiving the maximum financial assistance available. New to Covered California? Open enrollment runs until February 15th. Covered California makes it easy for uninsured individuals and small businesses to shop for, compare, and purchase health insurance. It's your health care, made simple.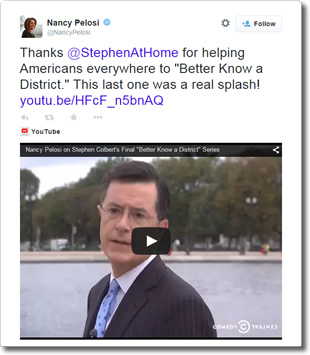 To follow Congresswoman Nancy Pelosi on Twitter, please click here.
Emergency Preparedness
As San Franciscans recover from the damage left by yesterday's storm, we are reminded that after a natural disaster, it may be several days before vital services, like electricity and running water, are restored and it is important to have an emergency plan in place. With the help of SF72, San Francisco's hub for emergency preparedness, you can sign up to receive updates and information should an emergency occur. You can also find out how to prepare for an emergency and make an emergency plan. These helpful resources will help ensure that you and your loved ones remain safe should an emergency occur.
Please feel free to forward this information to your family and friends. To learn more about these efforts, to express your views, or to sign up for email updates, please visit my website. I am also on Twitter at http://twitter.com/NancyPelosi.
 


Sincerely,

Member of Congress