Covering California
California, Covered
The Affordable Care Act is delivering on the promise of quality, affordable insurance for millions of Americans across the country – and California continues to lead the way for the nation. 

The evidence continues to pile up that the Affordable Care Act is working. After years of double-digit premium hikes before the passage of this historic law, premiums for 2015 health coverage available on Covered California are rising only 4.2 percent on average. The low rates achieved through Covered California's tough negotiating give Californians the confidence of knowing that their newly affordable health insurance isn't going anywhere – and some plans are becoming even more affordable, with average premiums that are 8.5 percent lower than current rates. And almost 60% of Californians who were uninsured before Covered California enrollment began last year are now covered.

Thanks to the Affordable Care Act's premium tax credits, low rate growth, and strengthened consumer and patient protections, millions of students, workers and families are discovering they can count on their affordable, quality health insurance being there for them when they need it the most. The Affordable Care Act is improving the lives of countless San Franciscans, Californians, and Americans.
Waste of Time, Waste of Money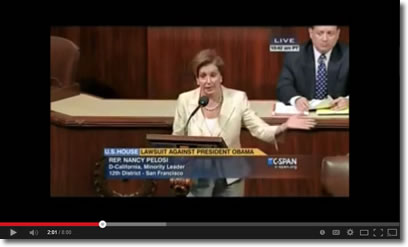 Congresswoman Nancy Pelosi speaks on the floor of the House against the feckless lawsuit that Speaker Boehner has brought against the President.
Doing San Francisco Proud
We are so proud that legendary, award-winning musician and San Francisco-resident Linda Ronstadt was awarded the National Medal of Arts and Humanities this week by President Obama. I was honored to attend the ceremony on Monday and witness President Obama present Ronstadt, as well as 21 other winners, with the prestigious award that honors artists and patrons of the arts. I offer her my warmest congratulations.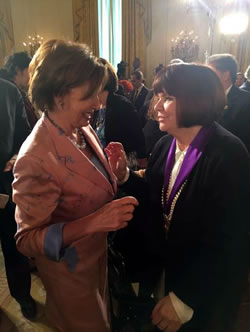 Congresswoman Nancy Pelosi joins National Medal of the Arts and Humanities recipient Linda Ronstadt at the White House on Monday.
Please feel free to forward this information to your family and friends. To learn more about these efforts, to express your views, or to sign up for email updates, please visit my website. I am also on Twitter at http://twitter.com/NancyPelosi.
 


Sincerely,

Member of Congress