Best Wishes this Holiday Season
As we begin the Holiday season in the company of our loved ones, I write to thank each one of you for the privilege of representing our beautiful city in Congress. 2015 has been a year of vital progress — House Democrats have fought critical battles for the success of hard-working families, the security of our nation, and the health of our planet. I look forward to continuing to advance the priorities of San Franciscans in the New Year. 

Please accept my warmest wishes to you and your family for a joyous holiday season and a very Happy New Year.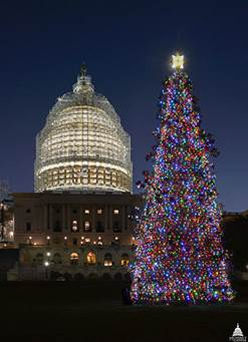 The Capitol Christmas Tree, Architect of the Capitol
Saving for the New Year 

The holidays are a wonderful opportunity to talk with your loved ones about saving for the future, especially as we approach the New Year. This year, the Treasury Department unveiled the my Retirement Account (myRA) program to help those without access to a retirement savings plan through their employer. Here's how it works — with no fees to open an account, you simply fund your myRA from your paycheck, checking or savings account with any amount you choose, and watch your savings grow.
Please feel free to forward this information to your family and friends. To learn more about these efforts, to express your views, or to sign up for email updates, please visit my website. I am also on Twitter at http://twitter.com/NancyPelosi.
 


Sincerely,

Member of Congress