Baying at the Moon
Baying at the Moon

As Americans await action from this Congress on issues that matter to middle class families, the Republican majority is still baying at the moon. This week, Congress took vote number 56 to repeal or undermine the Affordable Care Act – and strip health security from American families.

Thanks to the Affordable Care Act, uninsured rates are at a record low and more hardworking families are able to afford health care. The Affordable Care Act is working, and the impact in California has been profound. Last year alone, more than 3.5 million Californians got health care coverage through Covered California, Medi-Cal, or other private insurance. And since open enrollment began in November, more than 228,000 Californians had already selected plans, and more than 466,000 had enrolled in Medi-Cal. Many San Franciscans have directly benefitted from the ACA, including Derrick, who helps children in San Francisco learn math, chemistry, and physics. After the Covered California marketplace opened, Derrick shopped for coverage online and realized that he qualified for Medicaid. He can now obtain medication quickly and affordably, and spend more time focusing on his work rather than worrying about the cost of health care.

And while Republicans wasted time with another vote to repeal the Affordable Care Act, the clock is ticking down until the Department of Homeland Security shuts down on February 28. Republicans should stop putting the politics of right-wing radicals over the safety of American families, and join with Democrats to protect the American people, fund the Department of Homeland Security immediately, and focus on the middle-class economics that can create bigger paychecks and better infrastructure for the American people.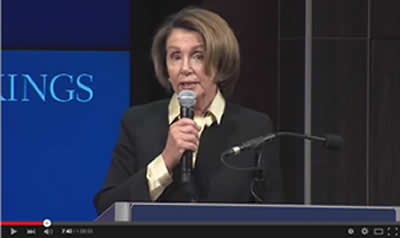 Congresswoman Nancy Pelosi delivered remarks and participated in a moderated conversation at the Brookings Institution about Democrats' ongoing effort to strengthen the financial security of America's working families.
A Free and Open Internet

Every American benefits when the Internet enables innovation, entrepreneurship, and communication. On Wednesday, Federal Communications Commission (FCC) Chairman Wheeler proposed new rules to help ensure that success on the Internet is founded on the best ideas, not the biggest bank accounts. I applaud this proposal and encourage the FCC to continue its policy promoting the open Internet and banning intentional service delays and schemes that prioritize those who pay extra.

Wednesday's proposal builds upon recent efforts to ensure every child, in every zip code has access to next-generation communications networks for years to come. It creates clear and enforceable net neutrality standards, preserving the freedom, creativity, and commerce that the Internet facilitates – and it also uses other parts of the FCC's Congressional mandate to promote new competition and protect consumers.

Any related legislation must be compared to the benefits of the consumer protections and new competition that this FCC proposal delivers.
Grants 101 
 
RSVP Today!     Grants 101: How to Apply for Federal Funding     Monday, February 9th, 2015
Registration: 1:30 PM
Program: 2:00 PM - 3:30 PM
90 7th Street, Room B0-40
San Francisco, CA 94103
Map It!

RSVP here.

All visitors must present government-issued photo identification, such as a valid state driver's license or ID card, valid passport or US Passport, to gain access to the Federal Building. Entering the building is much like airport security, and will require extra time. Arriving early is highly recommended to allow for security procedures.

For more information please e-mail Kia Kolderup-Lane at Kia.Kolderup-Lane@mail.house.gov or call 415-556-4862. 
Please feel free to forward this information to your family and friends. To learn more about these efforts, to express your views, or to sign up for email updates, please visit my website. I am also on Twitter at http://twitter.com/NancyPelosi.
 


Sincerely,

Member of Congress