A Reason to Celebrate #Pride
#StillCovered 
This week, for the second time, the Supreme Court has upheld the Affordable Care Act. The Court's ruling in King v. Burwell ensures that all eligible Americans, regardless of their home states, have access to premium tax credits to afford life-saving health care. 

This is a victory for common sense and for all American families. It is long past time for Republicans to abandon their agenda to terminate the newfound health security that the Affordable Care Act is providing millions and millions of Americans across the country. 

American workers and middle-class families will continue to enjoy the benefits of quality, accessible health care and dependable, affordable health coverage.

Marriage Equality = #Pride 
Today, the Supreme Court unequivocally affirmed that equal justice under the law means marriage equality for LGBT Americans. This decision is about creating a future where loving, committed families are able to live with dignity. This is about freedom. This is about love. This is transformative, not only for LGBT families, but for America.

Finally, every loving American – regardless of their race or where they live, regardless of their gender or gender identity – has the right to marry the person they love.

We must continue the fight for the full protections that are long overdue for LGBT Americans, many of whom can still be fired for who they are and who they love. No American should ever lose their job, their home, or live in fear because of their sexual orientation or gender identity – and that's why Congress must now take up a comprehensive LGBT civil rights bill. Our work continues, but today we take deep pride in this hard fought, long sought victory for justice in our country.
 
Nancy Pelosi 
@NancyPelosi

---

To follow Congresswoman Pelosi on twitter, please click here

.

U.S. Conference of Mayors 
It was my honor to join Mayor Lee in welcoming Mayors from across the nation for the long-awaited return of the U.S. Conference of Mayors to our great city of San Francisco last week. 

Mayors stand on the front lines of progress for America and we know there is still more that must be done to build a bright and prosperous future for America's hard-working families. It is about ensuring paycheck fairness and increasing the minimum wage. It is about making the big, bold investments in infrastructure that America needs to compete and succeed in the 21st century. And finally, it is my sincere hope that with another election on our horizon, we will amplify the voices of the many, and decrease the role of money in politics.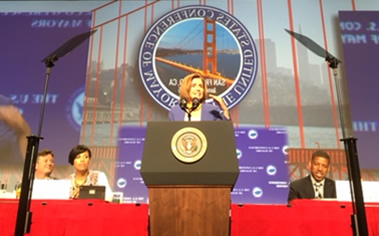 Congresswoman Nancy Pelosi delivers remarks at the 83rd annual meeting of the U.S. Conference of Mayors in San Francisco.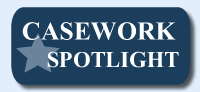 My San Francisco office was recently contacted by a constituent organization that hosts a global entrepreneurship competition for girls aged 10 to 18, which included finalists from the United States, India, Nigeria, Mexico, and Brazil this year. The award ceremony was being hosted this week in San Francisco. However, due to a technical problem affecting U.S. consular posts worldwide, the team from Nigeria was unable to have its visitor visas printed to enable the team to travel to San Francisco. My office quickly relayed the details of the situation to the U.S. Embassy in Nigeria and shortly thereafter, the Embassy agreed to grant port of entry waivers to the team members to allow them to travel to San Francisco in time for the ceremony.

Caseworkers in my San Francisco office work to address any problems or concerns you may have with a federal government agency. To submit a Casework Authorization Form, please visit my website.
Please feel free to forward this information to your family and friends. To learn more about these efforts, to express your views, or to sign up for email updates, please visit my website. I am also on Twitter at http://twitter.com/NancyPelosi.
 


Sincerely,

Member of Congress