91 Deaths a Day
Too Much Heartbreak
The ambush and murder of police officers last night during a peaceful protest is a tragedy that tears at the heart of every American. We are all horrified by this despicable act of violence, and we share in the shock and grief for the officers killed, their loved ones, and the entire Dallas community.

The past few days have seen too much death and too much heartbreak. As Rev. Martin Luther King wrote, 'Darkness cannot drive out darkness, only light can do that. Hate cannot drive out hate, only love can do that.' Dr. King reminds us of the glorious song of Saint Francis, which is the anthem of San Francisco: 'Saint Francis, appeal to the Lord. Make me an instrument of thy peace. Where there is darkness may I bring light. Where there is hatred may I bring love. Where there is despair may I bring hope.'

In the spirit of Dr. King and Saint Francis, we must continue the work of nonviolence and demand an end to senseless killing everywhere. Our hearts are also aching for the two African American men who were killed in Baton Rouge and Minnesota this week: Alton Sterling and Philando Castile.

For all those lives that been cut short or changed forever, and for every American who wants justice and equality, we can and must do better.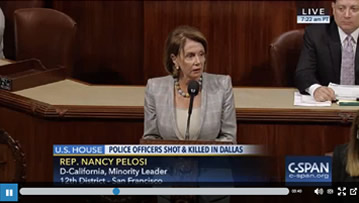 Congresswoman Nancy Pelosi delivers remarks today on the House floor following the shootings in Dallas, Texas and the shooting deaths of Alton Sterling and Philando Castile.

Hear Our Stories
All across America, families and communities are coming together to call on Congress to take meaningful action to confront gun violence in America. That is why my colleagues and I joined with gun violence survivors, families and advocates on the steps of the Capitol to demand a vote on commonsense gun violence prevention legislation. In doing so, we stood alongside 91 Americans donning orange shirts – 91 people representing the 91 Americans who lose their lives to a gun every day in this country.

We listened to the heartbreak that ripples through our communities with each gun death. We heard stories from courageous mothers like DeAndra Yates, whose 13-year-old-son, DeAndre, was struck by a stray bullet while he was celebrating at a birthday party – and who can no longer walk or talk. We heard tales of pain and resilience from women like Catherine Bodine, who watched as her abusive former partner – a man with a felony conviction who was prohibited from possessing a firearm – fatally shot her daughter, and shot and injured Bodine.

We owe these families more than our thoughts and prayers and moments of silence. We owe them a vote in the House on commonsense, life-saving legislation to expand background checks and keep guns out of the hands of suspected terrorists and criminals. We owe them real, meaningful action to disarm hate.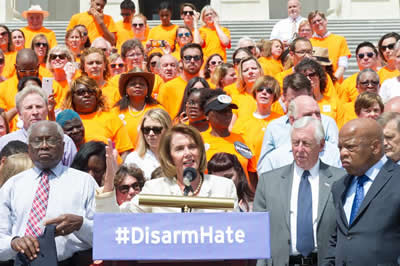 Congresswoman Nancy Pelosi gathers with other House Democrats and gun violence survivors on the steps of the Capitol on Wednesday to allow votes on legislation aimed at preventing gun violence.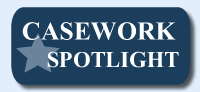 My office was recently contacted by a constituent who had been sponsored by his husband for permanent residency. The constituent had expected the process to take no more than six months, and he had brought a supply of HIV medication with him from his home country to last him until he received his permanent resident card, at which point he planned to apply for a Social Security Number and join his husband's health care plan. However, as the sixth month approached, my constituent became concerned that he would not have enough supply of medication to last him. Moreover, he could not travel internationally until the process had been completed or he would be deemed to have abandoned his application for permanent residency. A local nonprofit organization was able to provide my constituent with an emergency supply of medication to last him for another couple of months, but there was still uncertainty as to whether this would be enough. With the assistance of my staff, my constituent was able to request expedited processing of his permanent residency application based on his medical hardship. He subsequently received an appointment for an interview at the local U.S. Citizenship and Immigration Services (USCIS) office, and after attending the interview, he was approved for permanent residency.

Caseworkers in my San Francisco office work to address any problems or concerns you may have with a federal government agency. To submit a Casework Authorization Form, please visit my website. 
Please feel free to forward this information to your family and friends. To learn more about these efforts, to express your views, or to sign up for email updates, please visit my website. I am also on Twitter at http://twitter.com/NancyPelosi.
 


Sincerely,

Member of Congress