628 in the Golden Gate
A New Area Code for San Francisco
To accommodate the rising demand for telephone numbers in the Bay Area, San Franciscans will now see phone numbers with a 628 area code.

The new area code will serve the same geographic region currently covered by the 415 area code, including San Francisco County, most of Marin County, and a small portion of San Mateo County. 

Beginning February 21, 2015, callers must use the new dialing procedure for all calls (1+Area Code+7 digit telephone number), even if dialing another 415 phone number. After that date, if customers do not use the new dialing procedure, their calls will not be completed and a recording will instruct them to hang up and dial again. Beginning on March 21, 2015, new telephone lines will be assigned a 628 area code. To find more information, click here.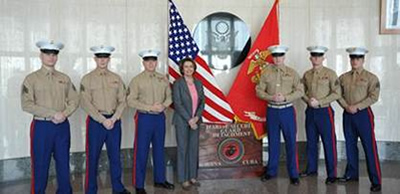 Congresswoman Nancy Pelosi meets with US Marines at the Interested Section in Havana during the Congressional Delegation's visit to Cuba.
Need Money for College?
With both the California and federal deadlines to submit the 2015-2016 FASFA fast approaching, you may be interested in taking a look at the information below to see whether you qualify to receive the financial assistance necessary to achieve your academic goals. 

The Free Application for Federal Student Aid (FAFSA) is used to determine eligibility for federal, state, and college-sponsored financial aid. It is important to note that submitting a FAFSA also qualifies you for state and college aid. To apply for California Grants, you must submit your FAFSA and a certified Grade Point Average(GPA) to the California Student Aid Commission by March 2nd, 2015. Remember, you may still submit your FAFSA application by June 30th, 2015 to qualify for federal grants and student loans. To learn more about applying for financial aid, you may also want to take a look at my FAFSA newsletter.
Nancy Pelosi 
@NancyPelosi

---

As Asian Americans & families around the world celebrate the Lunar New Year, we share wishes of prosperity & joy. goo.gl/MHH5IT
5:18 PM - 22 Jan 2015

To follow Congresswoman Pelosi on twitter, please click here

.

 
Please feel free to forward this information to your family and friends. To learn more about these efforts, to express your views, or to sign up for email updates, please visit my website. I am also on Twitter at http://twitter.com/NancyPelosi.
 


Sincerely,

Member of Congress