Equal Pay For Equal Work
Striving for Gender Equality Through Paycheck Fairness
This week, the House of Representatives took an important step towards closing the pay gap and securing equal pay for women by passing H.R. 7, The Paycheck Fairness Act.  This bill would strengthen and modernize the protections in the 1963 Equal Pay Act by creating more effective remedies for women who are not receiving equal pay for equal work.
Nearly six decades after Congress passed the Equal Pay Act, there is still a serious wage gap based on gender and race in our country.  Full-time working women still earn just 82 cents, on average, for every dollar a man earns, amounting to a yearly gap of $10,157—and these disparities are even larger for women of color.  That is why, this week, House Democrats made important progress towards reaffirming this pledge: equal work deserves equal pay.
Among its key provisions, H.R. 7, the Paycheck Fairness Act takes measures to promote equality in the work place:
Requires employers to prove that pay disparities exist for legitimate, job-related reasons, ensuring that employers who try to justify paying a man more than a woman for the same job must show that the disparity is not sex-based, but job-related and necessary.
Bans retaliation against workers who voluntarily discuss or disclose their wages.
Ensures women can receive the same robust remedies for sex-based pay discrimination that are currently available to those subjected to discrimination based on race and national origin.
Provides assistance to all businesses to help them with their equal pay practices, recognizes excellence in pay practices by business, and empowers women and girls by creating a negotiation skills training program.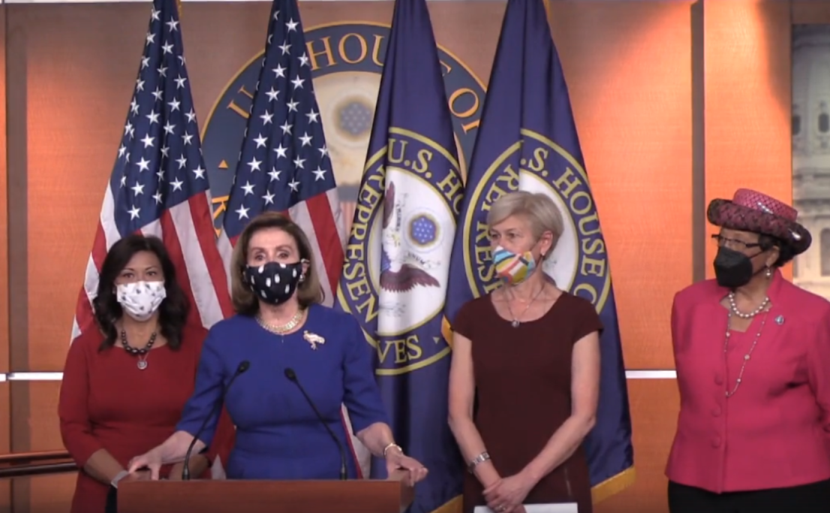 Congresswoman Nancy Pelosi joined her colleagues at a press conference ahead of the passage of H.R. 7, the Paycheck Fairness Act.
The need for action in paycheck fairness has only been accelerated by the pandemic, which has worsened economic disparities for women.  As we Build Back Better, women will be central to our efforts to advance our economy — because when women succeed, America succeeds.

Creating a Safer Workplace for Americans
Today, the House passed H.R. 1195, the Workplace Violence Prevention for Health Care and Social Services Workers Act.  This bill provides our nurses, social workers and many others working in the health care and social services sectors protection against violence in the workplace by requiring employers to implement prevention programs.  H.R. 1195 would help keep health and social service workers safe in the workplace by:
Requiring employers, in developing their workplace violence prevention programs, to identify risks, specify solutions, and require training, reporting, and incident investigations.
Providing protections to workers from retaliation for reporting violent incidents in the workplace.
Protecting health care and social service workers in the public sector.
The need for this bill is clear: our nation's caregivers suffer workplace violence injuries at far higher rates than any other profession.  Additionally, state and local government health care and social service workers suffer particularly high rates of workplace violence.  In passing H.R. 1195, House Democrats are standing with our nation's caregivers and taking critical steps necessary to help keep them safe.
Addressing Hate Against the AAPI Community
This week, I joined my colleagues in speaking in support of the COVID-19 Hate Crimes Act, which seeks to stem the rise in hate crimes and violence targeted at the Asian American and Pacific Islander community related to the pandemic.  This bill would empower the Department of Justice to expedite review of COVID-19 hate crimes and issue guidance detailing best practices to mitigate racially discriminatory language in describing the pandemic.  In the coming weeks, Congress will do its part to prevent these senseless hate crimes against our vibrant AAPI community in San Francisco and across the nation by passing this vital legislation.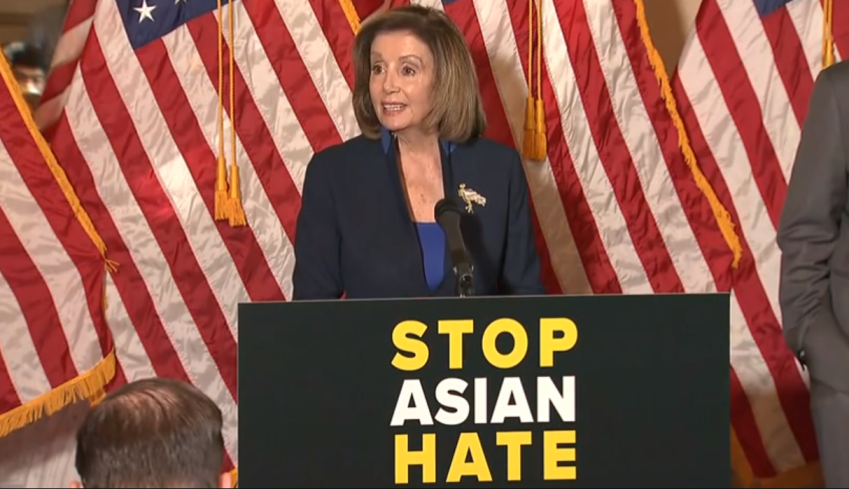 Covered California's Special-Enrollment Period
This week, Covered California launched a special-enrollment period to allow Californians to benefit from lower health insurance premiums available through the American Rescue Plan.  The American Rescue Plan makes health insurance more affordable than ever before by lowering health care premium costs for people who get coverage through Covered California through new and expanded subsidies.
The American Rescue Plan will help an estimated 2.5 million Californians, including the uninsured and people enrolled directly through a health insurance carrier, by providing additional financial help to lower the cost of their coverage through the following measures:
Injecting $3 billion of federal dollars in benefits to California's families.
Allowing Californians who sign up through Covered California to get high-quality plans for as little as $1 per month, or one with richer benefits for less than $100 per month.
Helping insured consumers who switch to Covered California to save up to $700 per month on their coverage.
Under the leadership of the Biden-Harris Administration, we are proud to declare: Help is Here! Learn more about California's special-enrollment period through the American Rescue Plan here.

Staying Up To Date on COVID in San Francisco 
As the pandemic continues to pose ever-present threat, it is important to stay updated with the state's latest guidance, as well as the resources available to help you and your family.  Below you can find the latest information, as well as some of the tools and resources to help with these developments:
  My office was contacted by a San Franciscan looking for assistance with expediting their work authorization document.  My office contacted the U.S. Citizen and Immigration Services (USCIS) and was able help this constituent secure their work document.
Please feel free to forward this information to your family and friends. To learn more about these efforts, to express your views, or to sign up for email updates, please visit my website. I am also on Twitter at http://twitter.com/NancyPelosi.
 


Sincerely,

Member of Congress