A Rescue Plan For The People
Hope and Healing for San Franciscans
A year after the coronavirus pandemic first began to take its toll on our community, because of the American Rescue Plan, Help Is Here!  On Wednesday, I was privileged to visit the North East Medical Services (NEMS) PACE Clinic in Chinatown as part of national "Teach-In" events across the nation to ensure that all Americans know the benefits available to them in the American Rescue Plan.
In terms of crushing the virus, the American Rescue Plan takes decisive action, with:
$21 billion for nationwide vaccination
Over $50 billion for testing, contact tracking and mitigation
New initiatives to drastically lower health care costs under the ACA
Nearly $8 billion to expand the public health workforce, and
$4 billion for behavioral and mental health, including to address provider burn-out.
Less than one month after the passage of the American Rescue Plan, nearly 220 million vaccine doses have been delivered and 170 million doses have been administered, over 150 million checks have been sent and nearly a trillion dollars are being put in workers' pockets.  And in San Francisco, thanks to the leadership of Mayor London Breed, nearly half of our city has received at least one dose and thirty percent have been fully vaccinated!
But we cannot take our foot off the accelerator.  That is why we are thrilled that the Biden-Harris Administration has announced, under the purview of the American Rescue Plan, a $10 billion initiative to expand vaccine access and build vaccine confidence in high-risk communities, including nearly $1 billion awarded to community health centers in California.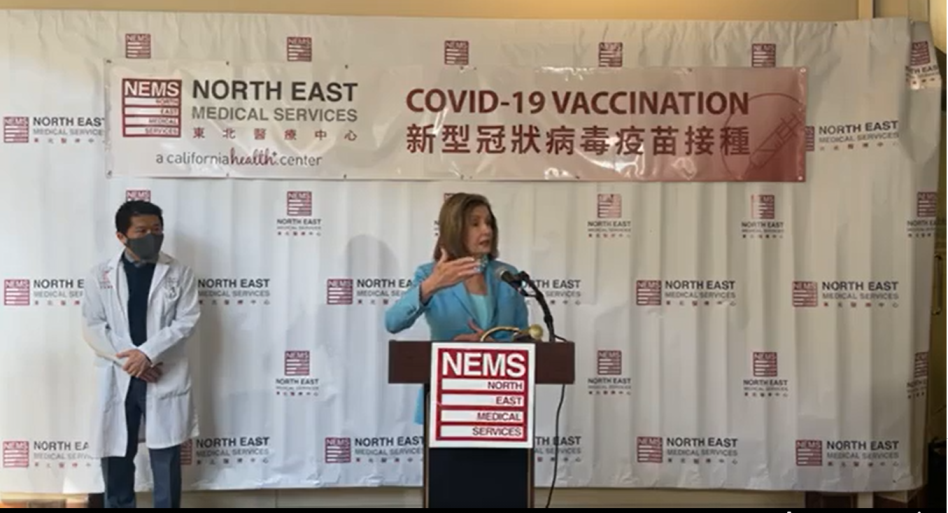 Congresswoman Nancy Pelosi joined Public Health Director Dr. Grant Colfax and Dr. Kenneth Tai of North East Medical Services (NEMS) at the NEMS PACE Clinic in Chinatown to highlight the life-saving resources contained in President Biden's American Rescue Plan, and help San Franciscans understand how they can benefit from health provisions in the legislation.
The benefits of the American Rescue Plan will continue to be delivered to the American people: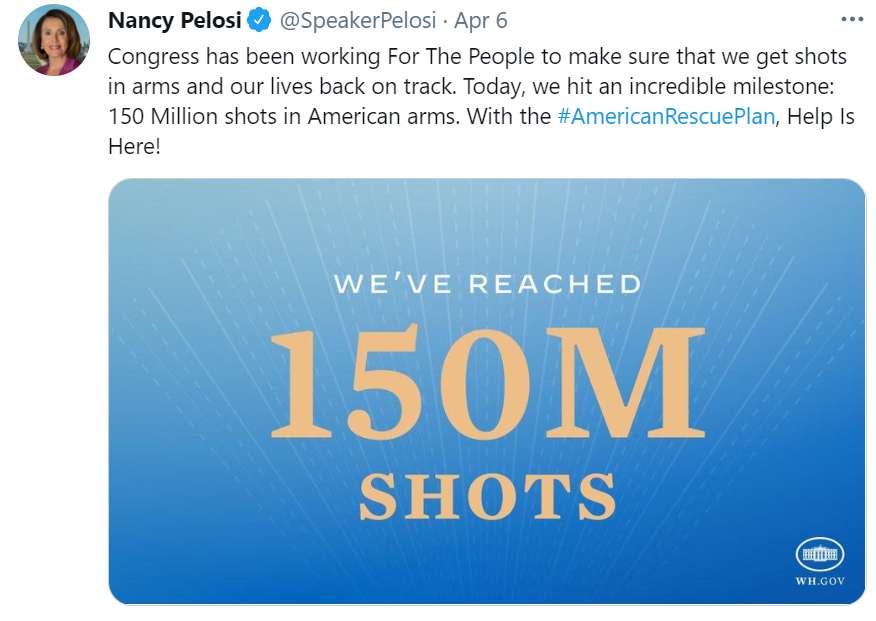 Vital Gun Violence Prevention
Every day, the gun violence epidemic reaches into countless communities, forcing families across America to endure unfathomable pain and anguish.  More than 41,000 Americans died from gun violence last year, the highest by far on record, with the most vulnerable—women, children, and communities of color—cruelly and disproportionately affected. 
This week, President Biden took important action to bring immediate, effective, and strong action to gun violence prevention efforts in our nation.  The steps the Administration is committing to take steps will save lives: stopping the spread of 'ghost guns,' helping ensure that dangerous people cannot access firearms and leading an evidence-based, whole of government initiative to reduce community violence.

The House of Representatives is proud to have passed two critical pieces of gun violence prevention legislation and will continue to work alongside President Biden to advance safety, security and justice in America.
H.R. 8, the Bipartisan Background Checks Act, sponsored by North Bay Congressman Mike Thompson – which requires a background check for every gun sale or transfer.
H.R. 1446, the Enhanced Background Checks Act – which would end the Charleston Loophole that enabled the horrific hate crime at Mother Emanuel AME Church that killed nine innocent people.
These bipartisan and commonsense background checks are supported by over 90 percent of the American people, including gun owners.  Working with the Biden Administration and the survivors and families of victims who  have turned the agony into action, we must ensure that these bills are passed by the Senate and signed into law.  It is past time for Congress to come together from both sides of the isle and pass these bills—Democrats remain committed to advancing this critical legislation and making America a safer place for all.


Staying Up To Date on COVID in San Francisco
With the ever-present threat of COVID-19, it is important to stay updated with the ongoing changes in our community.  Below you can find some of those changes as well as tools and resources to help with these developments: 
  My office was contacted by a San Franciscan who had not received their second Economic Impact Payment check.  My office was able to reach out to the IRS on the constituent's behalf and ensure that they could receive their missing payment.
Please feel free to forward this information to your family and friends. To learn more about these efforts, to express your views, or to sign up for email updates, please visit my website. I am also on Twitter at http://twitter.com/NancyPelosi.
 


Sincerely,

Member of Congress